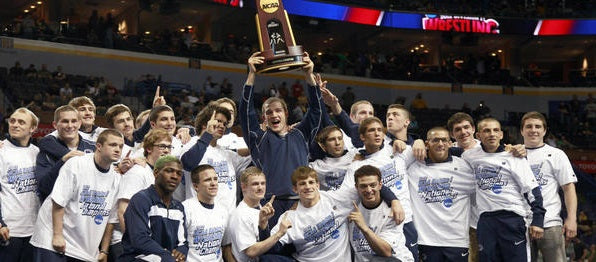 Penn State Claims Second NCAA Wrestling Title
The Penn State wrestling team, led by Cael Sanderson, officially claimed their second straight NCAA title Saturday night in St. Louis with 143 points total. Senior Frank Molinaro, sophomore David Taylor and sophomore Ed Ruth all claimed individual titles during the evening, icing the cake of a stellar season for the Nittany Lions.
While it was practically guaranteed early in the day that Penn State would claim its second NCAA title, in the end, Penn State outscored Minnesota by a jaw-dropping 25.5 points. Minnesota finished the evening in second place with 117.5 points followed by Iowa in third with 107.5 points.
Four-time All-American, senior Frank Molinaro took on Minnesota's Dylan Ness during the evenings events posting a 4-1 win over the No. 7 Gopher. He leaves Penn State as one of the greatest wrestlers in school history and closes out his senior season with a perfect 33-0 record.
Sophomore David Taylor took on and defeated No. 11 Brandon Hatchett of Leigh. In addition to his individual title and the team
title, Taylor took home several individual awards including the 2012 NCAA Wrestling Championships Most Outstanding Wrestler. Undefeated top-seed at 165, he was also named the 2012 NCAA Most Dominate Wrestler for the season. He heads into his junior year as a two-time All-American with a 70-1 record and ends a perfect sophomore year at 32-0.
Top-seed at 174, sophomore Ed Ruth defeated unbeaten Nick Amuchastegui of Stanford Saturday, 13-2, becoming Penn State's third national champion of the evening. Ending his perfect season as a two-time All-American with a 31-0 record, Ruth heads into his junior year with a 69-2 overall record.
The Nittany Lions broke several schools records at the 2012 NCAA Championship with five finalists and a 143.5 point total. They leave St. Louis and the NCAA Championships with a final overall record of 33-9 and end the year as two-time reigning NCAA and Big Ten Champions.