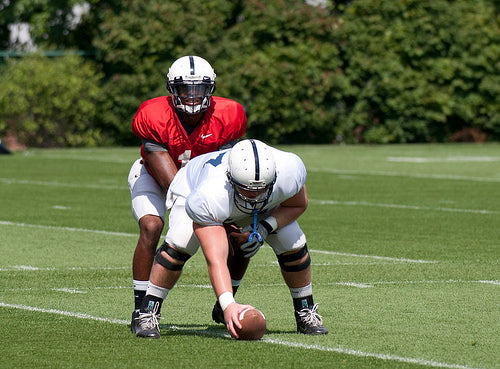 Penn State Football - Week 1 Recap
The Penn State football season got underway on Saturday afternoon against Indiana State and things went as smoothly as expected. Chaz Powell returned the opening kickoff for a touchdown in a game that from the very start was never in doubt. Both Rob Bolden and Matt McGloin got a chance to make their case for the starting job as the Nittany Lions defeated the Sycamores 41-7.

Rob Bolden came out as the starting quarterback for Penn State, and from a stat-line perspective he was unimpressive completing 6 of 12 passes for 37 yards. But several of his incompletions were accurate passes that were dropped, including what could have been a long touchdown pass to Justin Brown. Matt McGloin came in to play the second quarter and looked a bit sharper, going 6 for 8 with 77 yards. Three of those completions were to Derek Moye as the two looked to be on the same page just as they were last season. Moye finished the game with four catches for 57 yards. The story of the game on the offensive side was Silas Redd who was outstanding in his first game as the primary back, carrying the ball 12 times for 104 yards and two touchdowns. Both of Redd's scores came in the first half, and he played just two series in the 3rd quarter. In total the Nittany Lions rushed the ball 48 times for 245 yards and 5 touchdowns.

The Penn State defense was excellent, holding the Sycamores to just 170 total yards and forcing three turnovers. Ronnie Fauch of Indiana State was just 11 of 23 through the air with 105 yards and two interceptions. The running game was a lost cause as well, with Penn State stifling Indiana State running backs to the tune of only two yards per carry. The only score for the Sycamores was a garbage time touchdown pass with two minutes left in the game. This was a very easy test for Penn State that they passed with flying colors. But the key question of who will start against Alabama still remains and nothing appeared to be answered on Saturday as both quarterbacks managed the offense well.