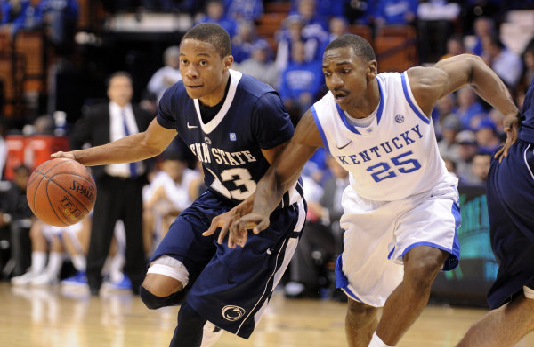 Embrace The Challenge
Basketball culture at Penn State and the surrounding area is a bit unique. I think that most alumni and students simultaneously believe that while there is no reason why Penn State's Men's basketball team shouldn't be competitive on a national level, they also believe that there a ton of reasons that the team will forever suffer in mediocrity.
We've been close. We've had a few players come through the ranks to go on and have some moderate success at the professional level, but not many. The best players I remember growing up were Jon Amechi, Calvin Booth, Dan Earl and Pete Lisicky. For those who may be late to the party, back in 1996 Penn State had a great run into National relevance, to the point of earning a 5 seed in the NCAA tournament. We seemed to be on the rise; a team that might compete at the highest levels athletically in everything. Then injuries happened, and then we ran into problems with player development and recruitment misses (or whatever excuse you want to make).
I believe this team has a unique ability to finally break through and make something special happen this year. To make fans believe in the program. To put Penn State back on the map for more than just one upset late in the year. To make Penn State matter on a national level year round.
They have a great blend of both returning experienced players as well as the ability to turn to some new faces for key contributions. Clearly, big obstacles remain, as the Big Ten remains an incredible power in basketball, with teams that may be lackluster during the football season, seem to shine during basketball season. Indiana, Illinois, Michigan State, Ohio State, Michigan, Wisconsin, and Minnesota have ALL been to the NCAA tournament multiple times over the past few years and should provide ample opportunities for upsets and notoriety in what is widely considered the best basketball conference in America.
Today, as Penn State's basketball team officially begins its basketball journey against Wagner, there are a few things I'm looking for in the early part of the season
Aggressiveness Looking to beat their opponent by initially using athleticism and teamwork to get open shots at, or around the rim. I'm all for systems and getting open 3's, but dominating in the paint and getting easy shots builds confidence in every shooter and the players in general. Do it by slashing off the ball, by dribble penetration, or by going to the post, but it's important to try to establish your physical authority.
Composure This may not be needed too much in this game, but if things go wrong for a stretch, it's important not to panic but to rather focus and execute the plays in the situations you've been practicing all off-season for.
A Sense Of Team Basketball can become more of an individualized sport than the others due to the nature of the game. But it is the people around you that will make the experience enjoyable or not. When players believe in both themselves AND each other, and you yourself play with a belief in yourself and in them, that is the mark of reaching a complete team.
I know most of the attention this weekend will still go to the football team, the women's volleyball team (who is again destroying teams and looks to be be a contender, yet again, for the National Title), and the hockey team as it ventures into its new Division I experience in a state of the art arena. But if we as Penn Staters want to change the culture of Penn State basketball we must play a role too.
If you're still in town, make an attempt to go to the game itself and support the team. If you're out of town, try to listen via the internet or radio. If you're constantly just on the go, check in on a smartphone for social media updates or a live score app.
The journey will not be easy, the road rife with potential missteps and seemingly impenetrable obstacles. Many will say that the idea is impossible itself and shouldn't be bothered with in the first place. But we are Penn Staters and we don't live in fear of the difficult or the unknown. We embrace challenges and overcome them.