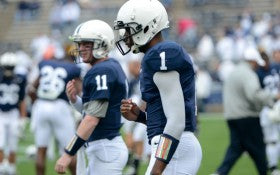 Finch, Bird and Trumaine: Make a Path for Coach McGrath/Fitzgerald
It's not easy being green. That much we know from Kermit the Frog and his famous song about the same. Evidence has also come forth in the form of Penn State running back Stephfon Green, who has been locked in the kennel for this entire 2011 season before he was recently released for a few snaps against Purdue last Saturday. The outcome was unspectacular, although in his defense, the current quarterback duo for Joe Paterno can't seem to execute a screen pass, a.k.a. Green's bread and butter.
Quite the opposite of easy for Penn State fans is controlling the frustration level over the Rob Bolden/Matt McGloin Experiment, which has reached its boiling point. And no, sanitization is not even within the range of Hubble's view. There is a theory in football which states that if you have two quarterbacks, you actually have none. Well, here's the thing: Penn State could add five more members to this rotation and it's questionable as to whether such a sum would even equate to a positive integer.
What in the name of Rashard Casey is going on here? The lack of progress by Bolden to this point is quite amazing. Last season, he had carte blanche due to his true freshman status. The first half of this season was slated to be his maturation period, but puberty can't nor won't wait for upcoming defenses such as Nebraska and Ohio State.
But it was more than that. Hidden beneath the surface, that contest was also part of Fitzgerald's audition process – center stage and in direct vision of the brass. Fitzgerald is definitely on the list of names to potentially replace Paterno when the icon finally retires following the 2018 season. He exudes many of the qualities which have made Paterno who (and what, as an entity) he is: class, humility, leadership and an austere focus on academics as an integral part of molding 18-year-old kids into upstanding men.
Fitzgerald's 2011 group is in the midst of a sub-par season following three consecutive winning campaigns. He doesn't have the talent – not even close – that other programs in the Big Ten possess, yet his teams chip away and always play hard. Incredibly, there is scuttlebutt around the NU program about the questionable future of its head coach beyond this season. Whether such chatter derives from asinine Chicago media outlets or those close to Morton Shapiro and/or Jim Phillips is unknown, but the fact that it exists is ridiculous. Their collective loss would be another program's gain. That fan base should stop complaining and be thankful that Fitzgerald hasn't left yet for another opening.
Don't judge by the overall record; that happens too often in this sport, any sport, nowadays. Instead, look at the way Fitzgerald took on a position at the tender age of 31 and has sustained a solid football program over a five-plus year period.
Gene Chizik, as head coach at Iowa State, finished the 2008 season with a 2-10 record. Less than two weeks after the conclusion of that dreadful 2-10 slate, he was hired to replace Tommy Tuberville at Auburn. Do you think Auburn fans are complaining now? In case you missed it, Chizik and the Tigers won the national title last season. The point is that Fitzgerald, like Chizik, is much more than his team's win/loss mark.
To speak of Paterno's replacement, as we all know, is silly and not on anybody's watch but his. But as the pieces keep mounting, it's hard to keep quiet. He can't stand on the sideline anymore to coach his players. He can't run onto the field anymore when the Blue Band revs up the home crowd before kickoff. He can't hear questions anymore posed to him by reporters. He can't stay healthy anymore for an extended period of time. When does anymore become no more?
When Fitzgerald stands on the sideline (as the head coach of a football team needs to do during a game) on Saturday night at Ryan Field, watch his demeanor. Just watch him. He's a football coach. And a darn good one. The outcome will favor the Nittany Lions, who will remain undefeated in conference play, but be mindful of the way Fitzgerald handles himself, his coaches and his players. While he, nor anybody else to ever coach this game, does not have the visionary mind that Paterno had when he literally changed the sport with genius defensive schemes in the late 1960s, Fitzgerald has the same broad mindset of what it means to be a successful college football coach. After all, he self-admittedly learned from the best.