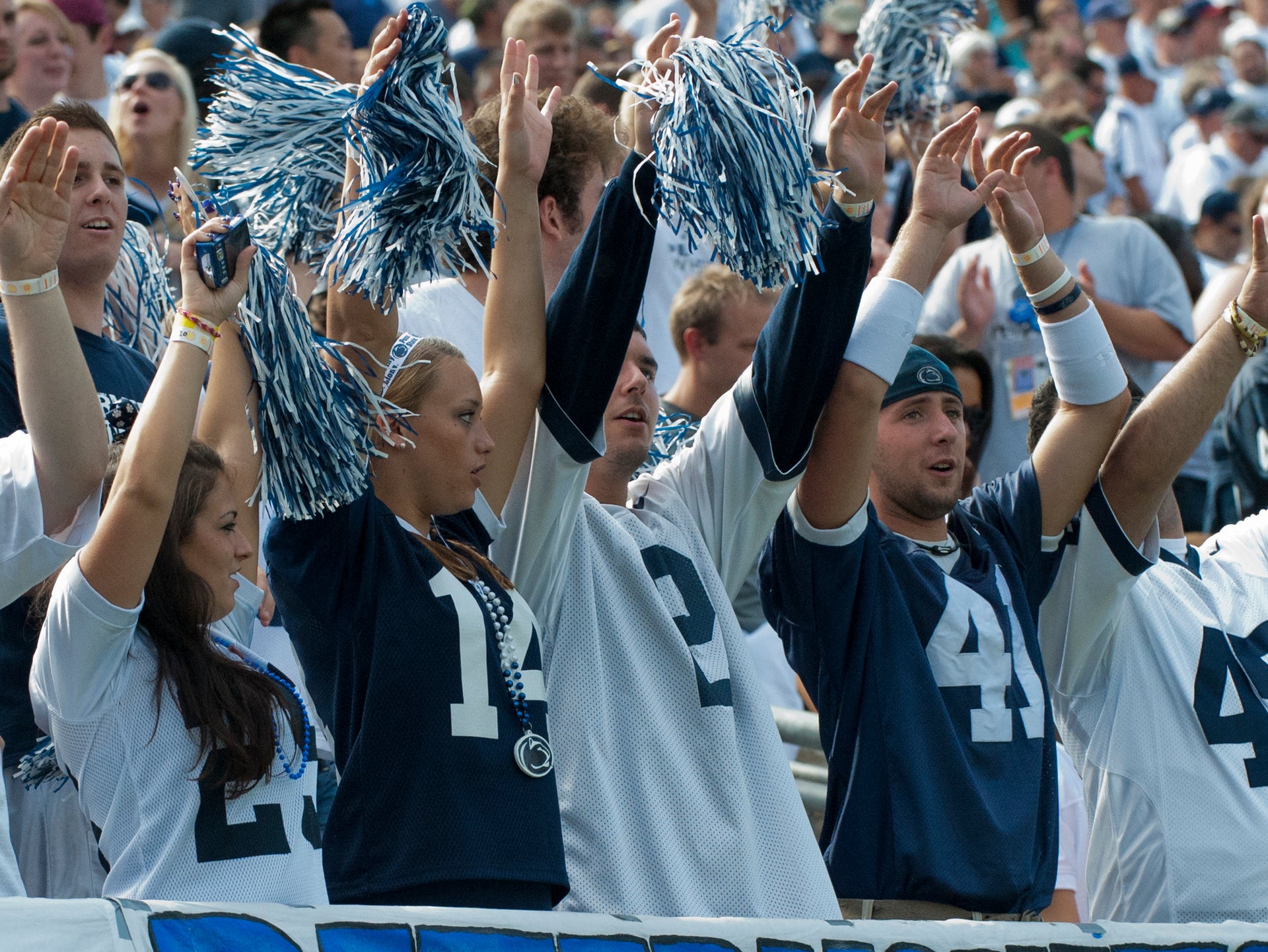 The Case of the Minnesota Mouthpiece
Somewhere on the sideline of Beaver Stadium at the 15-yard line near the south end zone sits microscopic pieces of plastic which once formed a football mouthpiece. Six years ago, that mouthpiece was a harbinger.
When Penn State opens its home conference slate on Saturday against Kirk Ferentz, Penn State fans will be looking for such an indication, although hopefully this one won't be made out of plastic. This Iowa program has absolutely been the biggest pain in the ass for Joe Paterno over the last decade, and perhaps his entire career. Ferentz has simply outcoached Paterno on many occasions, not the least of which was when he purposely gave Penn State two points in 2004 because he knew the Lions could not and would not score.
(Easy, easy. Remember the Woo-Sah.)
No, this game won't be a repeat of that 6-4 monstrosity. But it certainly won't be the overtime thriller from 2002, either. To err on the side of caution, move the dial closer to the former if you are fan of the ole' over/under wager.
Momentum. This sport breathes it, lives it, loves it, is it. Saturday will define Penn State's 2011 season, plain and simple. If this group wants to reach its potential, it must start with this game. Forget all the reasons from past years; the 2008 last-second field goal heartbreaker, the 2000 overtime tipped-ball interception, the Adrian Clayborn special teams debacle in the teeming rain from two years ago – none of that matters at the moment. Yes, those setbacks certainly helped booze sales across Nittany Nation, but for the time being, Paterno must win this game.
Brandon Owens was a deadly safety on the 2005 Minnesota Golden Gophers. The brutal shots he delivered across the middle made James Boyd look like Stuart Smalley. But on a beautiful early fall afternoon just over six years ago, his career took a painful turn when Penn State quarterback Michael Robinson knocked him out with a collision so hard that Brad Nessler claimed the echo of those pads crashing made its way into the outer rim of the solar system. To this day, Owens has still not fully recovered from the hit, and probably never will.
Robinson went on to pass for 175 yards and ran for 112 more in Penn State's 44-14 win, a victory which made the Lions 5-0 and truly set the tone for the rest of that season. As is the case on Saturday, that was the second conference game of the season and one week after State won a nail-biter on the road against an inferior opponent.
Sound familiar?
Imagine if Isaac Smolko had dropped Robinson's fourth down pass in Evanston the week before. That would've never allowed Derrick Williams to make his game-winning 36-yard touchdown reception and the pep in the Lions' step leading into the aforementioned Minnesota game would certainly have been different.
But Smolko didn't drop the critical pass, Williams did make that TD catch and Penn State did win. The bottom line is that it doesn't matter how awful last week's 16-10 win looked; this team is 1-0 in conference play and a continually positive flow (although not ebb and flow) to a football season, particularly at the collegiate level, can often be the impetus for a team finishing with a better record than it might deserve on paper.
It's time for the training wheels to come off. Rob Bolden needs to show signs of improvement. Although it might be difficult to see, the framework is there. What's needed is momentum. Penn State escaped Bloomington with a win, just like it did against Northwestern. A strong showing against the Hawkeyes and – gasp – a win over Ferentz would do wonders for this team's confidence and pave the way for even more momentum leading into next week's homecoming contest against a putrid Purdue team.
No, this team does not have anything close to Robinson. His devastating hit on Owens (and Owens' flying mouthpiece) was a microcosm of what was in store for a group of young men on the verge of coming together to do something special. It was only one play, but it revealed so much; it gave that game, that team and that season a certain swagger – a swagger so strong that led to within one second – literally – of an undefeated season.
Let's not go there. Not today, anyway.
Whatever the outcome is come early Saturday evening, the tone will be set for the remainder of the season. If the Nittany Lions are finally able to fire on all cylinders in the season's sixth game and eliminate the dreadful mistakes made in prior years against Iowa, they should win. A home game with perfect weather and a healthy roster should lead to a victory and subsequently set the tone for a seven-game unbeaten streak heading into November. But yet another loss to this program would be devastating. Not necessarily surprising, but devastating nonetheless. At some point, one would assume that the old man is tired of losing to a coach who simply plays the odds and tendencies because he knows what's coming.
It's all about setting the tone. That cannot be stressed enough. Penn State can and should win this game. The shame of it all, if PSU is victorious on Saturday, is that the following game is not against Ohio State, as it was for Robinson and the '05 squad. The current state of the Buckeyes' offense makes Penn State's look the 2001 Miami Hurricanes. The only White Out needed to beat that group the way it's currently constructed is also known as its generic version called Liquid Paper.
Because they're good enough, they're smart enough, and doggone it, people like them.