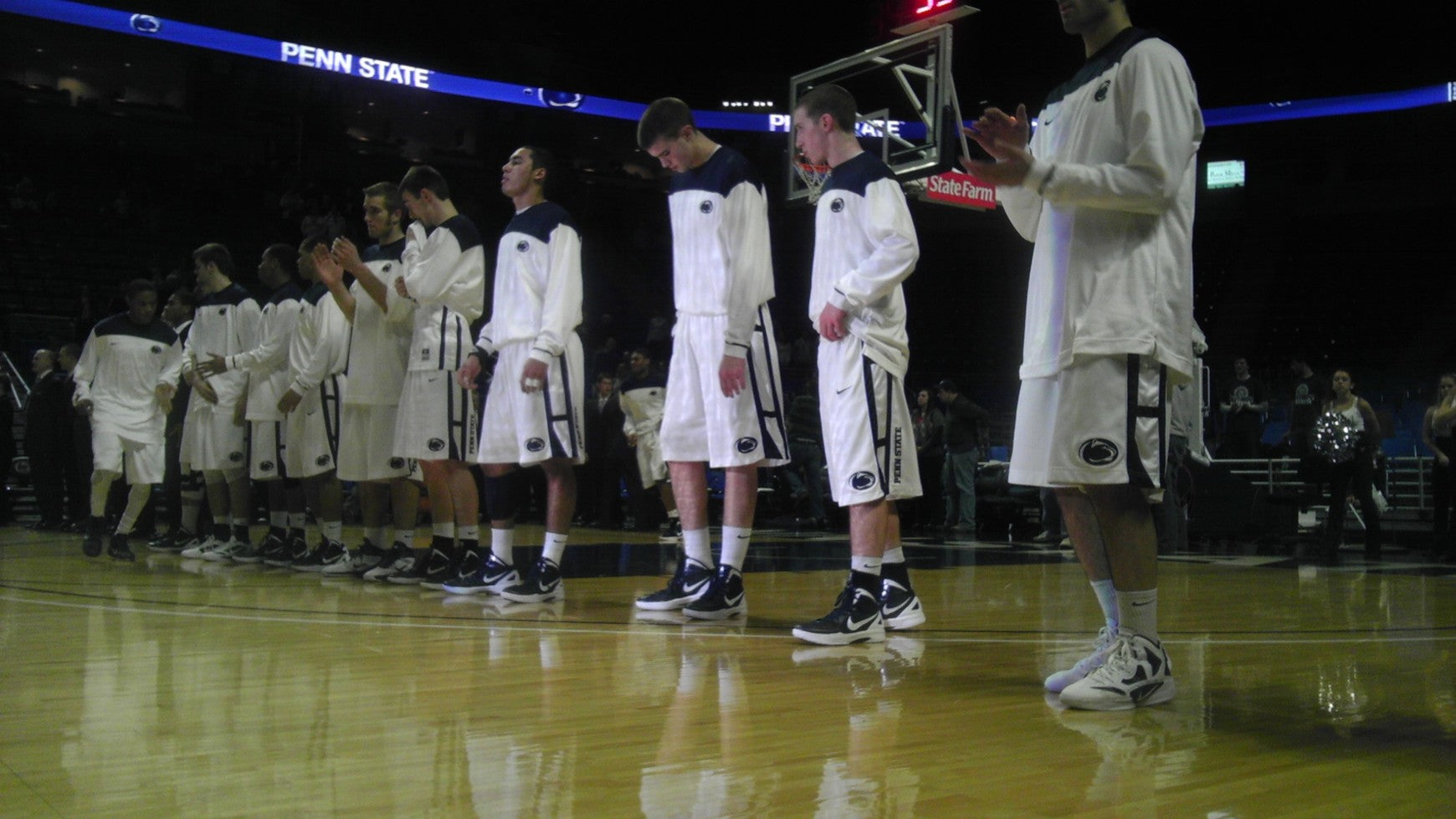 In The Midst of Losing...
I
n life, we typically try to do our best and try to enjoy the time that's given.
However, sometimes our best isn't good enough, and times become grim and joyless.
This is that time for the Penn State Men's basketball team.
I've seen the team play three times now in person and twice on television. Each time resulting in a loss. Sometimes the defeat was bitter, as a few plays here or there might have put them over the top. Others felt like they were against an impossible opponent. Still it felt like the support which may have been there at the start has slowly faded.
Fans of the team begin to talk of next year. We talk of the great accomplishments of the wrestling team, or the woman's basketball team, of both of the soccer teams, the energy behind the newly crowned varsity hockey team, and we, of course, will ALWAYS talk of the football team.
It's easy to be supportive when a team wins. We like to be associated with winning. It feels good and fills us with pride. Losing makes us feel bad and ashamed, as though we should cover it up and compensate with what we are good at. While this possibly makes us feel better about having a bad basketball season, with hopes that we can just 'turn it around next year', it also nullifies anything that this team may still accomplish.
And in that way, the team may lose hope in itself.
Rather than look at the Men's team as a separate entity, let's look at it in a sense of family. Imagine that all the athletic teams are kids, battling for affection in one form or another from both each other, and from the student body and alumni. (For imagery purposes, Let's say that the Alumni represents the "Father" and the student body the "Mother")
Now as the Big Brother (football) goes on to make big accomplishments and make big money, he gains increased favor from both the mother and father. He is the 'golden child' as it were. Then as the family goes and is extended the attention of the mother and father continue to be on those that accumulate awards and have success, distancing themselves more and more from the 'black sheep' (men's basketball.).
In life, most of us will lose at something. Then, due to circumstance, effort and luck, we may continue to 'lose'. You didn't get a job, broke up with your girlfriend/boyfriend, burned your tongue on an overly hot pizza, computer got hit by a virus, etc. In the midst of this losing, it is easy to fall into the traps of excuses, talk of next year how things will be different. It's even easier if those around you agree and enable oneself to not take personal responsibility.
I understand that this Men's basketball team lost one of its leaders early in the year.
I understand that the team is young.
I understand that the Big Ten may be having the best year ever in basketball currently with five teams ranked in the top 25 and Wisconsin just on the outskirts.
But that doesn't mean this team can't compete.
With nine g
ames left to go, Penn State will play against mostly the bottom half of the big ten, as well as possibly the best team in America in Michigan. These games still hold great interest to me, because I want to see how much will power this team has. I hope to attend at least one or two and will watch when I can from home or from work. I care little about the final score, but I want to see a team competing as hard as they can; one that leans on each other when times get tough; one that refuses to accept the destiny that everyone seems to want to put on them. A terrible team. The worst in the Big Ten. The 'Black Sheep' of Penn State.
If the program is to ever realize that 'better tomorrow', then it must start today. They must challenge each other constantly to be better than they were the day before. At drills, in the weight room, and as always, in the classroom. It is difficult in these days when things are going so poorly, to stay faithful in the pursuit of greatness, and perhaps settle for what's already been earned, and waiting for the off-season to regroup. Yet it has been that exact line of thinking that I believe always puts the program behind.
Today I will watch intently at the kind of team Coach Chambers has put out on the floor. Are they a team that has checked out and ready for the next season, or are they going to fight for everything they can get out the one they're in?
I'm optimistic that I'll see the latter.